Restless Legs may have an easy fix
Your restless legs may be caused by venous insufficiency.
The job of veins is to pump blood back to the heart and that is a HARD job! As we age, stand for extended periods of time, or even pound the pavement, our veins take a beating. The valves that push the blood back up to our hearts can begin to separate, causing all sorts of uncomfortable symptoms.

The end of the day is the worst for individuals suffering from the symptoms of venous insufficiency. Veins are exhausted and weak, causing swelling, pain, cramping, and restless legs.
Try medical-grade compression stockings, (measurements and stockings available from our office) daily, for 3 months and see if your restless legs improve.
The best news: venous insufficiency can be easily treated! You can finally say goodbye to restless legs!
Here's what our patients have to say: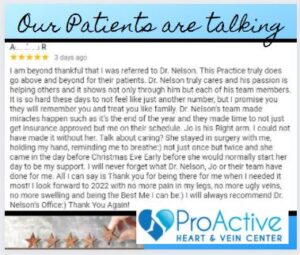 Posted in: Uncategorized
Leave a response