PAD Treatment
PAD Facts

People with PAD can have a six-to-seven times higher risk of heart attack and stroke.
If PAD is not treated. The symptoms can get worse.  If severe and left untreated PAD can lead to leg infection, ulcers and possible amputation.
Nearly 75% of people with PAD do not experience symptoms.
PAD affects 8 to 12 million people in the United States.
What is Peripheral Arterial Disease?
Peripheral arterial disease, also called PAD, occurs when blood vessels in the legs are narrowed or blocked by plaque. This leads to reduce blood flow to your legs feet.
PAD is a known risk factor for heart attack and stroke.
Many people mistake their leg pains for arthritis or muscle pain, when the symptoms may be caused by PAD.
Am I at high risk for PAD?
Smoking (or history of smoking)
High blood pressure
High cholesterol
Overweight
Not Physically Active
Over age 50
Diabetes
Family history of heart disease, heart attacks or stroke, or family history of PAD
What are the warning signs and Symptoms of PAD?
Many people do not have symptoms. Others may experience the following:
Leg pain, particularly when walking or exercising, which disappears after a few minutes of rest.
Numbness, tingling or coldness in the lower legs or feet.
Sores or infections on your feet or legs that heal slowly.
Color changes in the skin of the feet, including paleness or blueness.
Lower temperature in one leg compared to the other leg.
Poor nail growth and decreased hair growth on toes and legs.
Leg muscle atrophy (loss of muscle tone/bulk)



How is PAD diagnosed?
Dr. Nelson will take a medical and family history and perform a physical exam.
Most people will require two tests- a segmental ankle brachial index (ABI) and an arterial duplex ultrasound.
Painless and easy, the segmental ABI compares the blood pressure readings in your ankles with blood pressure readings in your arms.
The second non-invasive test is an ultrasound duplex scan of the arteries to determine the thickness of the artery walls, blood vessel structure, blood flow velocity and blood flow turbulence.
How is PAD treated?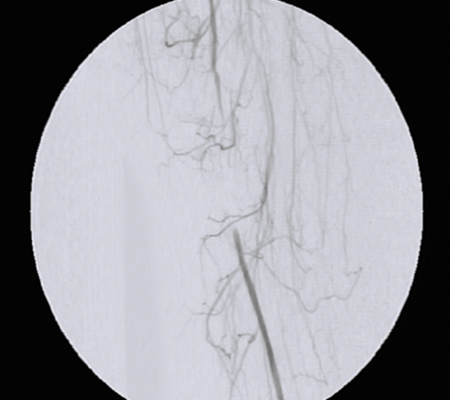 Before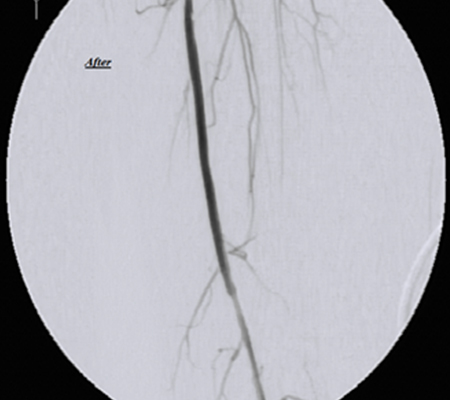 After
If the segmental ABI or ultrasound results suggest PAD you will likely need an angiogram.
One of more of these procedures could be used to restore blood flow through the blocked artery. (See before and after diagram.)
Angioplasty
A catheter with a balloon is passed through a blocked artery. Once inflated, the balloon compresses the plaque against the wall of the artery.
Stent Implantation
A small metal mesh tube called a stent may be placed in the artery to help open blocked arteries.
Atherectomy
A special catheter is used to gently shave and remove plaque from the arteries.
If PAD is severe enough bypass surgery may be needed.